---
Pfondevida family
Dear David,
From the initial meeting until the day we received our keys, David has been there assisting us in any capacity. He has been honest, reliable, friendly and most of all on top of any issue that may have surfaced. This response well exceeded our expectations. We appreciate his thouroughness and his respect for us to make timely decisions without ever feeling under pressure. We highly recommend David Gonzalez as an excellent Realtor. He will be our "Realtor for life".
---
Martin family
Dear David,
I just want to say how awesome you are. You were very professional & well prepared to handle every situation. I was impressed to see that everything went exactly how you laid it out. In fact, I was so impressed that I have begun to recommend you to family & friends. More than anything, I felt I could trust you. I'm glad I came to you. You are truly "God Sent".
---
Wang family
Dear David,
"I never would have dreamt of my home being sold within a month so smooth that it seemed to be a miracle to me. I wish I can personally thank you for all you've done, especially for selling my home at the best possible price. It was definitely a great experience to have you as my agent. As a first time home seller, I also want to thank you for making it as stress free as possible. You were always very courteous, honest, and professional. You revealed to me lots of your marvelous marketing strategies, and made good with your promises. I enjoyed your prompt response to all my concerns and keeping me informed all the way. I would definitely recommend you to all my friends and family in the future."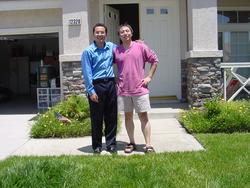 ---
Chambers family
David,
Don and I wanted to send our warmest thanks for a job well done. As a first time home seller, you made things painless for us. The whole idea of selling our home and relocating out of state was very overwhelming, until we met you. From the first time we spoke on the phone, you always let us make the call and stood on the sidelines to step in when needed. You made us feel as if we were the most important client you had, even thought you had several homes for sell at that time. It takes a special person to cross from a business professional to someone who feels like a life long friend. Thank you for being that person.
Sincerely,
Kathy Chambers
---
Click Below to Read More Testimonials on Yelp!